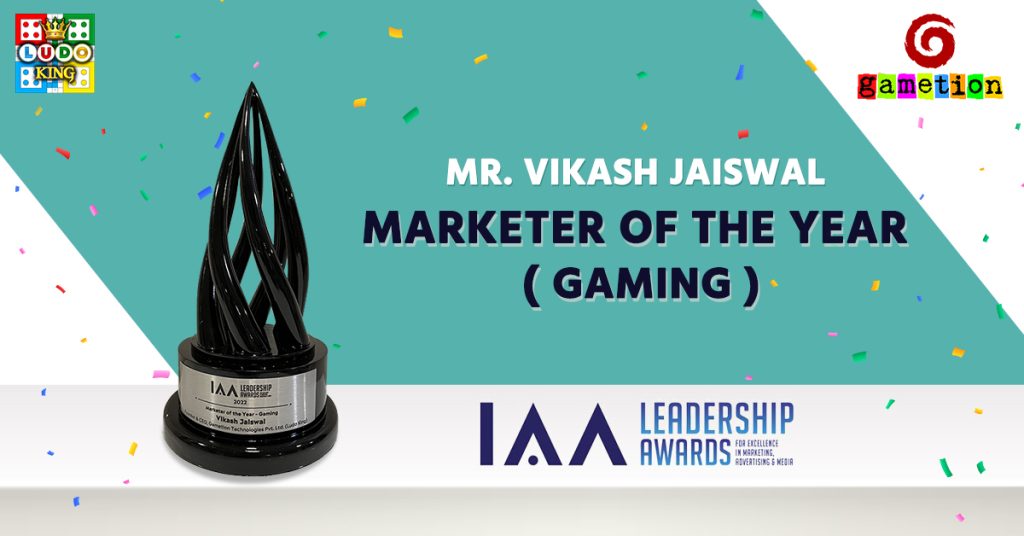 Founder & CEO of Gametion Technologies Mr. Vikash Jaiswal has been honored with the "Marketer Of The Year"' award at the International Advertising Association (IAA) Leadership Awards 2022. The award was in appreciation of the exceptional marketing achievements with the flagship title of the company – Ludo King and other games. Gametion's ace products and Mr.Jaiswal's strategic marketing have led to a total of 850+ million downloads of their mobile game apps globally.
Ludo King entered the market in 2016 with a humble start and soon became popular among all age groups. Its buzz went on spreading and it became the most popular mobile game in India within a year of its release. Following Ludo King, Gametion released Carrom King, Bubble King, Sudoku King, and CallBreak King which are prominent titles in the Indian mobile game market. Gametion has always engaged in robust marketing for all of its products; with diverse goal-oriented strategies. The collective efforts of all marketing campaigns have led Gametion to rise as a leading game publishing studio in India.
A glimpse into Ludo King's publicity and marketing sprints from 2018 to 2021
The marketing team at Gametion, under the leadership of Mr. Jaiswal, executed many marketing campaigns along the course of Ludo King's journey. Meticulously designed campaigns yielded the studio a huge exposure in the rapidly growing Indian gaming market. Gametion made an association with popular Bollywood and pop singer Mika Singh who released a song titled "'Ludo King" in October 2018. The song went viral and Mika Singh's popularity and fan following exposed Ludo King to the young audience and made Ludo King a famous game among the general public. The song is hailed as the "Official Ludo Song." Following the success of this campaign, Gametion released a patriotic song titled HINDUSTAN sung by popular singer and composer Shankar Mahadevan on the official YouTube channel Ludo King. This song went viral with unbelievable speed and helped strengthened Ludo King as a brand.
In November 2020, Ludo King signed Bollywood actor Sonu Sood as a game ambassador. This campaign included videos and challenges featuring Sonu Sood which ran extensively for a year and used Sonu Sood's philanthropic image and popularity to take Ludo King's hype to the next level. In 2021, Ludo King started "Ludo King Show", a game show which features people playing Ludo King, while others can watch on both the app and YouTube. Since the start of the show numerous TV and film celebrities have played on the show and stars like Vidya Balan, Tapsee Pannu, Pavail Gulati, Anu Kapoor, etc. have appeared on the show for promotional activities. The Ludo King Game Show made Ludo King a true alternate entertainment and a digital indoor sport enjoyed by all age groups.