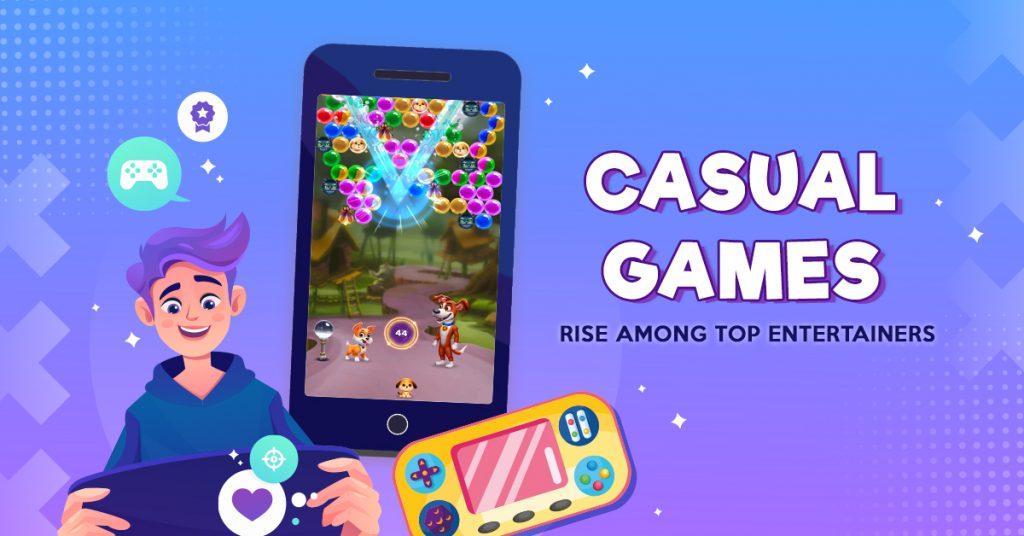 Casual gaming has marked a never-seen-before "genre boom" globally. The casual & hyper-casual gaming space is now bigger than ever and the trends clearly indicate that these games deliver considerably higher recreational value. Game publishers have made smart shifts towards developing casual games, as they have harnessed a massive market with tremendous potential, in the early 2020s. With a baffling growth rate, casual games generated around 13 billion downloads globally crossing surprisingly high revenue numbers. But what makes these games the first preference of players? Here's a glance into why and how casual gaming gained popularity and became one of the top-played gaming categories.
The conventional opinion is that casual games demand minimal skill and the ease with which users can enjoy them make the USP of these games. A logical counter is that though casual games don't demand dedicated time they do demand skill and as users develop game-specific skills, playing the games becomes a recurrently pleasant exercise for them. Some of the prominent sub-categories of board games are – endless runners, color match, trivia, education, puzzle, word games, hidden objects, adventure, board games, & card games. Every type of casual game engages players by giving them – a puzzle to solve, a mission to fulfill, a mission to evade danger, a race to win, etc. They fulfill the players with the sense of completion, achievement, or victory and they return to experience the thrill of the gameplay again and again.
Casual gaming has been associated with several benefits. Light entertainment anytime, anywhere with "tactile or visual" gratification that normally forms a great distraction to deviate from stress. Casual games demand concentration and mental agility which may lead to better mental capabilities. They entertain all irrespective of age, as a go-to pastime whenever required. The affordability of smartphones and a high profusion of the internet made casual games acquire an enormous user base pretty quickly. The Indian online gaming industry is projected to grow at a CAGR of 21 percent over FY 21-25 to ₹29,000 crores.
The genre has benefited publishers tremendously with greater ROIs, as a great boost to the industry to further dole out promising products with more possibilities. On average, hyper-casual mobile gamers download 10 times more games than other players. Players of hyper-casual games watch two times more ads than players of other mobile game genres. Consequently, casual games generated the highest advertising revenue given that casual games had a maximum of 18,000 advertisers in the year 2021. The average user retention is highest in casual and hyper-casual games, which does not seem to dwindle for the upcoming larger span of time.
Technological abundance has increased consumption, to only further narrow the attention spans of users. Casual games very quickly engage users and entertain them as a good retreat from the hustle-bustle of daily life. The inclination of players toward casual games proves obvious and that is how the genre holds high prominence in the global gaming scape!
Gametion is the publisher of one of the top played Casual games like Ludo King & Carrom King and is glad to have entertained more than 800 million casual game fans globally.