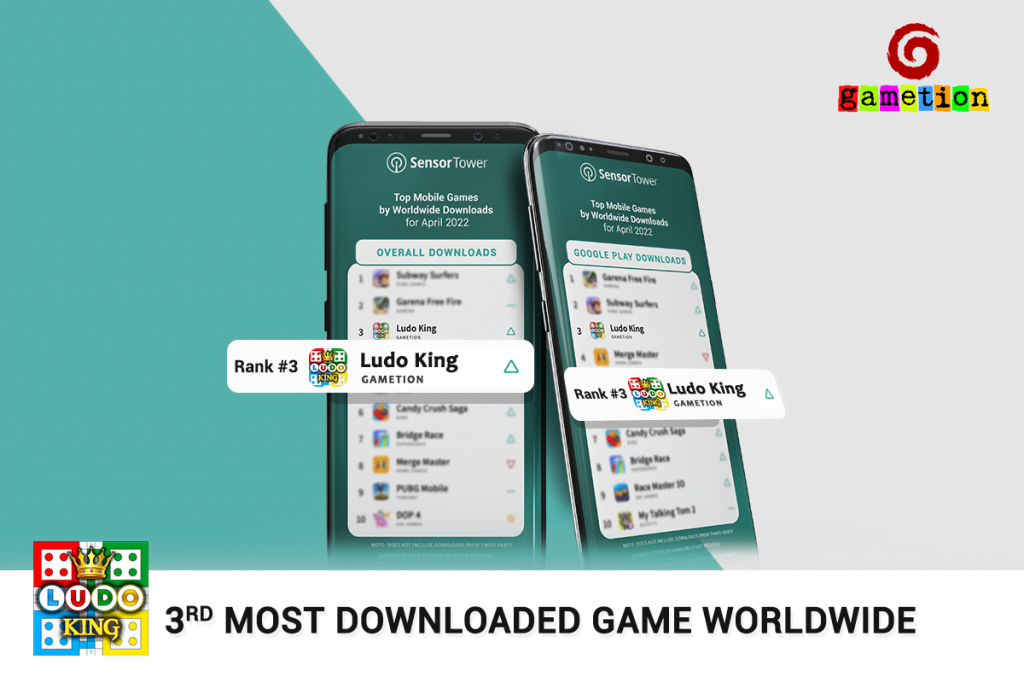 In the giant global mobile game market, India aces with a bigger chunk, as reported by the Sensor Tower – "The No. 1 market for global game downloads was India, which accumulated approximately 783 million installs, or 16.6 percent of total worldwide downloads." Existing in the world's largest market Gametion is exhilarated to announce that LUDO KING has amassed 700+ million downloads, and now ranks among the TOP THREE MOST DOWNLOADED GAMES on the internet, at the third position in April 2022.
The gaming industry is currently witnessing the most flourishing time since a variety of winning products and easy accessibility have contributed to the soaring interest of global mobile gamers. Different games offer uniquely distinguishable experiences, so powerful and tantalizing that gaming has shifted from a pastime to a real alternate entertainment across all age groups.
As the industry strives to serve markets, the competitive advantage has more to offer to gamers if not less than to itself. The race to create a winning game app eventually doles out products that first offer high entertainment value to the audience further to inevitably sustain fierce competition and become commercial successes. While heaps of things are discussed about the success of Ludo King, it only had a humble beginning with an earnest intent of connecting players online on a board game app. The classic board game that can be traced back in history, has been a refreshing pastime in every household. The Ludo King app offered more than what players could enjoy on the physical Ludo board game. An online multiplayer board game packed with features like voice chat, themes, play with Facebook friends, and game modes made it an indispensable app for every Ludo lover. It not only attracted more native Indian players but also gathered an expanding player base in the American and European countries.
Ludo King has been a global mass entertainer and we proudly boast of taking a local game globally, to places where the Ludo game wasn't even known. It's truly gratifying to see an Indian-made game gaining popularity and capturing markets overseas, opening more opportunities for India-produced games in the international markets.

Enjoy Ludo matches with global players
Download Ludo King now!
https://ludokingnew.page.link/smm