Ball Blast Tower is a super interesting target shooting game played with a single tap. The game brings an amazing combination of graphics and sound that builds an engaging audio-visual world of toony characters as shooters.
Gametion conceived the idea of Ball Blast Tower as a hyper casual game for fun anytime anywhere with simple yet captivating gameplay. Players have to shoot clear the stacked disc towers (disc piles) and grab points after clearing each tower. The balls are shot by a toony character which moves forward along the predecided path to pose in front of the next disc tower to shoot at. The level completes once all the disc towers are cleared on the given route. The shooting characters are upgraded as the player advances in levels.
Ball Blast Tower is a truly unique game in terms of its game dynamics. The disc towers rotate continuously and the player has to shoot the discs with the same colored balls. The player gets a limited time span to shoot while the tower is rotating and the disc color faces the shooter and hence Ball Blast Tower is a color-matching and time-bound shooting game. These features add to the thrill of smashing the targets making it more challenging requiring the highest anticipation while playing.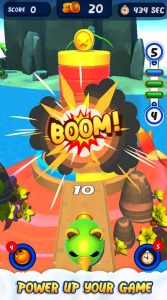 Built for light-hearted entertainment, Ball Blast Tower is easy to play but can be a little difficult to master since mastery depends upon alertness and attention. One has to react promptly and shoot without missing the timely move.
Exciting Features

★ One Tap Control – tap and shoot
★ Play With cute toony characters as shooters
★ Tricky levels with increasing challenges
★ Unleash the special powers given to the character and make the game more interesting
★ Compete with friends and global players on Leaderboard
★ Stunning audio-visual 3D world
Ball Blast Tower is a superb game at every casual game lover's fingertips! This ultra-casual game is all set to make every mobile gamer's game playing time interesting. Forget the life hassles for time being and go on smashing the towers one after another to emerge as a master shooter in Ball Blast Tower!

Download here: Ball Blast Tower for Android