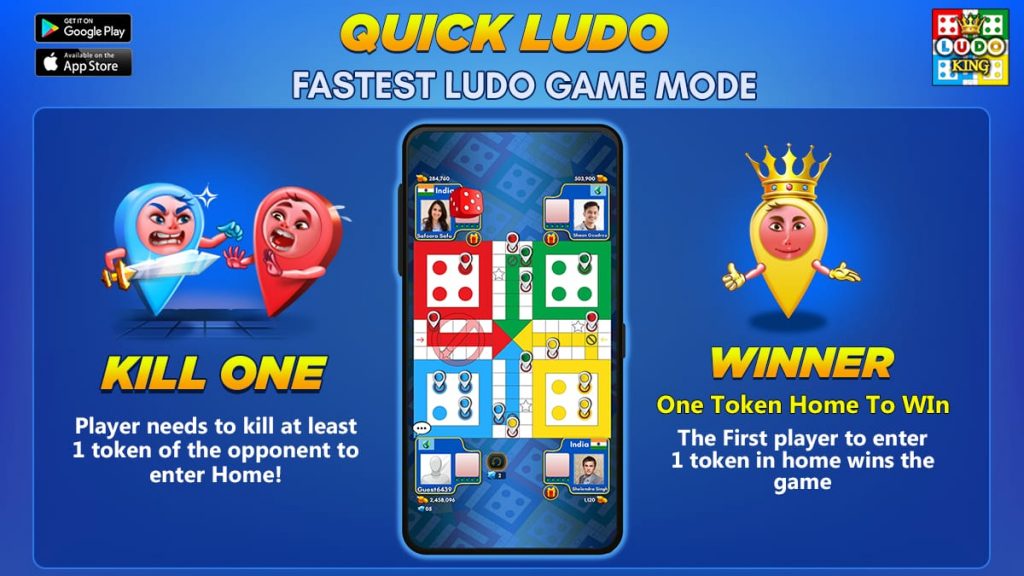 Ludo King after entering in the league of the world's most downloaded games in 2020 has brought new amazing features to make Ludo game more exciting in 2021.
In the first Ludo King update of 2021 rolls out two new features: Quick Mode and the 6 Player Online Multiplayer.
The Quick Mode is super interesting in terms of speed of the game and opportunities to win over the opponent quickly.

The gameplay:
Two tokens are already out ready to move.
The players can bring the remaining tokens out if they wish
The first player to take one token to the home wins the game.
The condition is that the player should kill opponent's one token.
Once the dice is rolled the player can undo the move using diamonds and roll the dice again to take a chance to kill opponent's token.
Quick Mode is highly entertaining because it is a fast Ludo game which gets over in about 5 to maximum 10 minutes giving players the instant gratification of winning. It is a great mode for players who don't want to spend much time on the app and want a quick game with similar fun of the full 30-40 minute Ludo match.
It is going to to be the best boredom killer and a great stress reliever. Players can play it in quick work breaks, while they are commuting, in the waiting periods, or anytime when they need quick Ludo fun without spending much time on the Ludo King app.
6 Player Online Multiplayer
The Online Multiplayer has been the most played feature in Ludo King. It has been the biggest virality factor in the game which took the game across borders. Ludo King is played online in 30 countries and in 14 languages.
Ludo King players always sought more fun in the online game and the 5-6 player mode was the popular demand from across the globe. Gametion finally released the 6 Player Online mode in December 2020 and it has added to more excitement globally. Players can enjoy the game with more people online. In 2021, Gametion aims to widen its Ludo King user base worldwide reaching to new countries and untapped markets.