Ludo King has been one the top 3 mobile games on the internet during the pandemic period. The game not only entertained people but also eased their lockdown agonies, anxiety, and the loneliness brought by the strict lockdowns. Ludo King's game experience has been widely recognized, the audio-visual gameplay with the novelty of themes but in reality Ludo King connects to the lives of people and the entertainment that Ludo King brings to its fans has to do with some real life experience. The latest addition to the game is the Mask Mode that has gathered a lot of attention and interest.

Mask Mode is a game mode designed to remind players, while entertaining them, about the mandatory safety health precautions in the current Covid pandemic that has engulfed the world badly. Since Ludo King is a best way to divert the fear brought by the pandemic, and education is best given in an entertaining way Gametion considered bringing a play mode that would remind players about the safety practices in a light and playful way.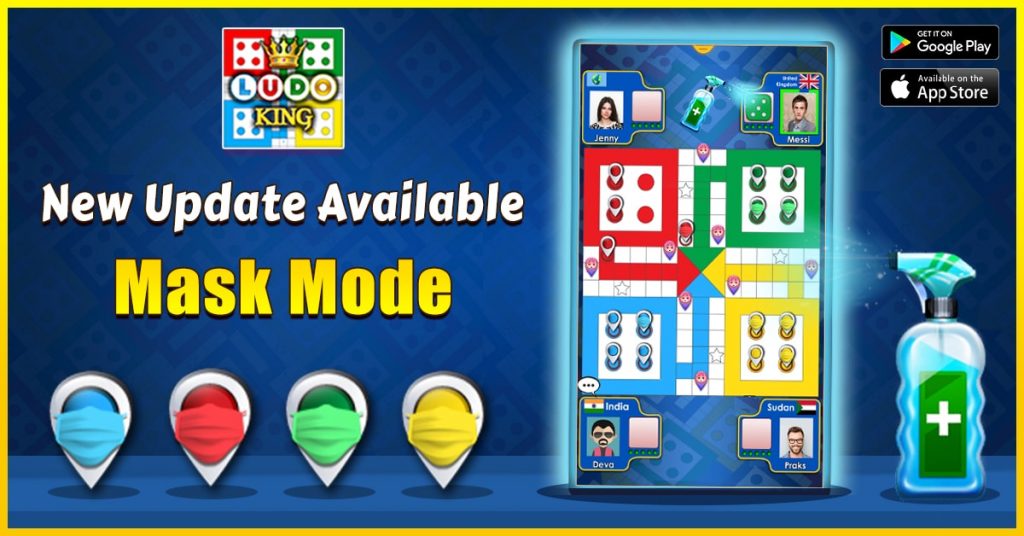 How does the Mask Mode operate?
Mask mode is played on the standard Ludo board with the infected persons placed on certain fixed positions on the board. The pawns have to come out of the main square and move towards the home wearing a mask and if a pawn lands on a position where the virus is present without a mask it gets infected and is sent to quarantine on the side of the main square for the next 14 turns. Till it recovers from the infection other pawns move ahead towards the home. After 14 turns are over, the quarantined pawn returns to the main square, recovered and ready to come out on the next six of the dice.
Mask mode has received praise and preference from a lot of players. Majority of them said that it is entertaining and a great reminder for everyone who would play the mode. It is a great alert during the times of forgetfulness about the safety practices like wearing masks, washing hands, and using sanitizers wherever necessary. This mode is especially good for indolent children as they get the necessary instructions indirectly every time they play their favorite game.
Most of us are fed up with the preachy messages about covid safety and precautions, Mask Mode gives the message of safety in a genteel and mature way that can be understood by anybody and everybody. 
Have you tried the Ludo King Mask Mode?
Try today and spread the word of safety practices!
Take a look at the gameplay of the Mask Mode in the video below: